Dental Implants – a permanent and aesthetic alternative to dentures
Are you looking for a better alternative to a denture replace missing tooth/teeth?
Whether you are missing a single tooth or multiple teeth, it provides superior comfort and function to dentures.  Dental implants provide strong foundation for crowns and bridges that function, look and feel like natural teeth.
A dental implants is a titanium post/screw which are placed into the jaw bone where a tooth is missing. The bone bonds with the titanium, creating a solid foundation for the artificial tooth. Additionally, dental implants assist in preserving facial structure and prevent bone deterioration, which occurs when teeth are missing.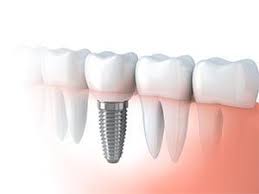 At Bona-Fide Dental, we provide complete implant care from precious bone saving bone grafting procedure to implant placement and final crown restoration.
If you would like to discuss implant dentistry to restore your smile, Call or Contact Us.