Our Story
Bona-Fide Dental is a private dental practice located in Reedy Creek, a bright and sunny location here on the beautiful Gold Coast.
We firmly believe that great dental care should be readily accessible to everyone for maintaining optimum dental health. Because everyone is different, we know that the best treatments and results work form personalised dental care plans. We strive to work on the best possible solutions to meet your unique personal needs.
We believe that by keeping you informed during treatments, we are educating you along the way.
We want you to achieve healthy lifestyle goals.
We believe that as our patient's knowledge base grows, so does our practice. We value our long-lasting relationships with all our patients.
Care and Commitment
We care about your health. From the moment you step into our reception right through to our treatment rooms, your dental health and wellbeing is what matters the most to our professional team. At Bona-Fide Dental you will notice our carefully planned modern and state-of-the-art equipment, architecturally designed treatment rooms and open plan sterilisation room and laboratory.
Our beautifully designed clinic is a reflection of our commitment and mission to provide caring, nurturing and personalized dental care that is of the highest quality.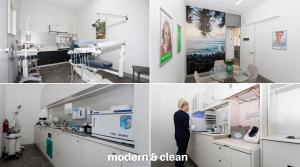 Accessibility and Convenience
We understand that the cost of dental care can be high and health fund claims, confusing. At Bona-Fide Dental, we are committed to providing accessible, high-quality dental care.
We don't believe in hidden charges and are transparent with you when planning your customised treatment plan to suit your personal budget. Why do we do this? Because we care.
At Bona-Fide Dental we practice all aspects of dentistry and provide you with comprehensive dental care under the one roof.
If on any occasion we need to refer you to an external specialist, we promise that we only carefully select from the most highly qualified practicing colleagues, and we ensure the best fit for your needs.
Comfort and Personalised Care
Our team is highly skilled and trained to make sure that you are at ease before and during your dental treatment. Bona-Fide Dental is committed to ensure that your experience is always a calm and gentle one.
Fitted with wireless speakers in all treatment rooms, we also offer our patients a selection of relaxation music from which to choose.  However, we also encourage you to bring your headphones and favourite music if you prefer. Additionally, we offer inhalation sedation (happy gas) as an option to ensure maximum comfort.